KIT SONY PXW-FX9 XDCAM 6K CAMERA DIGITALA CINEMA FULL-FRAME
Kit Sony PXW-FX9 XDCAM 6K Camera digitala cinema Full-Frame cu Obiectiv 28-135mm f/4 G OSS
Senzor 6K Full-Frame Exmor R CMOS
15 Stop-uri Dynamic Range
UHD 4K (3840 x 2160) pana la 60 fps
Inregistrre HD cu pana la 120 fps
Creativitate completa cu un senzor Full-Frame
Utilizant camera video digitala cinema Sony PXW-FX9, ce foloseste un senzor Full-Frame, puteti capta imagini cu detalii si o profunzime de camp, uimitoare. Sony PXW-FX9 va da posibilitatea sa filmati imagini cu adevarat creative si cu un asp[ect cu adevarat cinematografic. PXW-FX9 foloseste 15+ stopuri dinamice si un ISO dual (800-4000) ce permit captarea ficarei nuante, de la detalii subtile in umbra pana la evidente speciale si cu o paleta de culori foarte bogata.
Senzor "Exmor R" 6K Full-Frame pentru o calitate uimitoare a imaginii
15+ stop-uri de Dynamic Range pentru a captura imagini fara limite
Dual ISO (800 si 4000) pentru a filma in orice conditii de iluminare, cu cel mai mic zgomot de imagine
Cinematic colour science cu S-Cinetone
Frame Rate selectabil in ambele situatii de filmare, fie ca vorbim de Full-Frame sau Super 35
Surprinde actiunea cu noul Fast Hybrid AF imbunatatit
FX9 permite setari customizabile pentru AF
Autofocus cu toate lentilele cu montura E de la Sony
Primul filtru ND variabil electronic, din lume, pentru senzorul Full-Frame
Compatibilitate cu accesoriile specifice
Capabilitati 16-bit RAW
Compatibilitate perfecta cu noua serie Cinema Lens de la Sony (disponibile din primavara 2020)
Accesorii compatibile:
BP-U35 (BPU35) Lithium-ion battery 35 Wh
BP-U70 (BPU70) Lithium-ion battery 72 Wh
FE C 16–35 mm T3.1 G (SELC1635G) FE C 16–35 mm T3.1 G Cinema Lens Series full-frame wide-angle zoom with advanced optical performance, operability and intelligent shooting functions
XDCA-FX9 (XDCAFX9) Unitate de extensie pentru Sony FX9
Ce este in cutie:
Obiectiv 28-135mm f/4 G OSS
Body Cap (1)
Viewfinder (1)
Eyepiece (1)
Grip Remote Control (1)
IS1293 Power Cord (2) **
AC Adapter
BC-U1A Battery Charger (1)
BP-U35 Battery Pack (1)
Power Cord (2)
USB Cable (1)
Operating Guide (2)
CD-ROM "Manuals for Solid State Memory Camcorder" (1)
Nr. zile livrare (aprox):
5
Card memorie:
2 x XQD Card Slots
Specificatii Camere Cinema
Alte I/O:
1 x BNC Genlock Data Input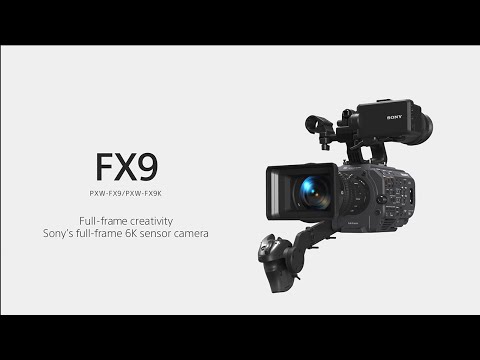 Sony | FX9 | Product Feature
Discover FX9, Sony's full-frame 6K sensor camera with Fast Hybrid AF, Dual Base ISO and S-Cinetone™ colour science. 6K Full-Frame "Exmor R" sensor for stunning picture quality. The camera's full-frame 6K sensor provides superb recording in DCI 4K*, Ultra HD and HD resolutions. Powerful image processing with debayering and oversampling ensures image quality beyond the limits of conventional Super 35mm sensors. The back-illuminated CMOS image sensor also uses Sony's Exmor R technology for improved sensitivity and noise reduction. Compared to a 4K Super 35mm sensor, the FX9's 6K sensor has over twice the surface area while providing a wider angle of view and shallower depth of field.